Dental Exam Quincy MA
Your upcoming dental exam Quincy MA is the first step for better oral health. This preventative dental procedure allows the dentist to understand your current dental needs. In addition, he or she is able to discover underlying issues and discuss the best treatment plan.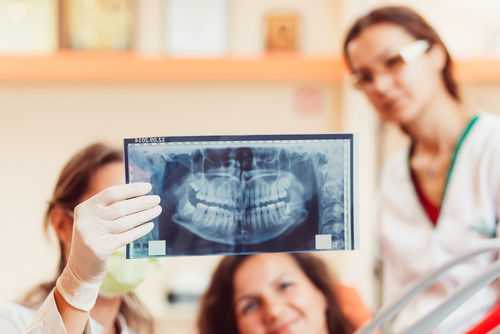 What is a dental exam?
In summary, a dental exam is an evaluation of your oral health. In fact, most patients should have a dental exam twice a year. Each visit consists of evaluating the following before recommending and performing treatments.
Teeth position or development
Teeth alignment
Jaw alignment
Jawbone structure
Tooth decay
Tooth enamel condition
Gum health
Previous dental restorations and replacements
Oral cancer or cysts
Dental X-rays
Your dental exam may include X-rays. In brief, dental X-rays are detailed images of your mouth. For example, they allow the dentist to see the teeth position, decay, cysts, and more. 
Bite-Wing – displays the upper and lower molars
Periapical  – shows one or two teeth
Occlusal – captures the entire arch of the upper and/or lower jaws
Panoramic – displays the entire mouth
Medical History Review
Next, the dentist will discuss your medical history and any current medication. This information is very important to assure the most appropriate treatments are recommended. In addition, some health conditions may explain certain oral issues. For example, a diabetic patient may be more at risk of periodontal disease.
Treatment Consultation
Upon the findings, the dentist will recommend the best dental treatments to improve your oral health. To illustrate, a patient may be recommended to use Invisalign due to its noninvasive design to straighten teeth. This is a great opportunity for patients to ask questions and address their concerns about treatments. Likewise, a dental cleaning could be followed and/or a future appointment is scheduled to begin your unique dental treatment plan.
Learn More
Our experienced team will schedule an exam and consultation during our convenient hours. Call (617) 405-4524 or click here to request an appointment. In addition, you may visit the office at 67 Coddington Street, Suite LL1 Quincy, MA 02169.