Dental Implant
Dental Implant Quincy | Dental implants have been used for teeth replacement for over 25 years. Yet, there are a number of patients that are more familiar with dental bridges and dentures. And so, we decided to create a blog centered around dental implants. Read below to learn how implants function while benefiting your oral health. Then, contact us today to schedule a consultation.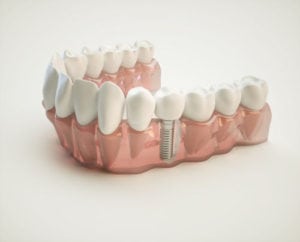 What is a dental implant?
Dental implants are titanium artificial tooth roots used for teeth replacement and jawbone preservation. Did you know that tooth loss can deteriorate your jawbone? Tooth roots naturally anchor into your jaw. Without a root, the bone loses density and your facial structure can change. Dental implants are the substitute for the missing tooth root. In essence, the implant is inserted into the jawbone. Once healed, the dentist attaches an abutment and a customized dental crown. Your tooth is now restored and your jawbone is preserved.
Why should I consider teeth replacement?
Teeth replacement is very important for oral health. Patients may have suffered tooth loss due to injury, decay, or periodontal disease. Missing teeth can lead to more dental issues like teeth shifting, decay, periodontal disease, and more tooth loss. Preventing tooth loss is crucial to avoid extensive dental work. Patients should care for their teeth with good dental hygiene and by visiting the dentist routinely.
Am I good candidate for a dental implant?
We encourage you to schedule an exam and consultation for dental implants. Our dentist at Quincy High Care Dentistry can recommend the best dental treatments for your unique situation. Contact us today. Call (617) 405-4524 or book online now. You may also visit us at 67 Coddington Street, Suite LL1 Quincy, MA 02169. Also, be sure to browse through our website to learn more about our dental solutions and how they can further enhance your smile.