Teeth Whitening Quincy
Maintaining a white smile is challenging. While routine tooth brushing and flossing is recommended, a brighter smile can be achieved with professional teeth whitening. This safe and effective dental treatment lightens teeth up to 8 shades and can last up to 3 years. Learn more about teeth whitening below and contact us for a consultation.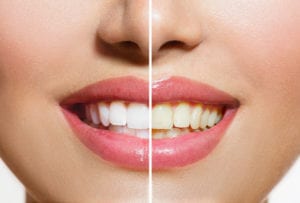 What is Professional Teeth Whitening?
Teeth whitening is an in-office procedure that uses a chemical agent and ultraviolet light to whiten teeth up to 8 shades. The procedure takes less than 2 hours and no recovery time is needed. Patients can also use at-home whitening trays. This option whitens teeth in about 7 days. Overall, both treatments enhance your smile and remove years of tooth discoloration. An exam and consultation are required before treatment can be assessed. Schedule yours today!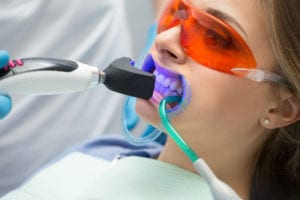 What is Tooth Discoloration?
Essentially, tooth discoloration is yellowing or staining of the teeth. It usually occurs over time for the following reasons.
Beverage Choices
Beverages such as coffee, tea, and red wine are notorious for staining teeth. Patients that consume a lot of these beverages may have more noticeable tooth discoloration than others. As a result, we recommend consuming these beverages less often to maintain a whiter smile.
Normal Aging
Similarly to gray hair and wrinkles, tooth discoloration is part of our aging process. In brief, as the tooth enamel becomes thinner, the yellowish dentin layer is exposed.
Tobacco
Tobacco use will cause tooth discoloration. Patients that smoke heavily may struggle with maintaining a white smile despite normal dental hygiene efforts. If the teeth and gums are healthy, professional teeth whitening may be recommended. However, tobacco use should be avoided to prevent staining from reoccurring.
Medication Use
Some medications cause side effects like tooth discoloration. In addition, treatments such as chemotherapy can cause darker teeth. A consultation is required, during which we will discuss your medical history to assure the procedure is best.
Contact Us Today
We offer an array of cosmetic dental treatments to improve your smile. Learn more about teeth whitening today. New and existing patients may schedule an appointment by calling (617) 405-4524 or booking an appointment online. The dental office is located at 67 Coddington Street, Suite LL1 Quincy, MA 02169. Most insurances are accepted and new patients are always welcome.